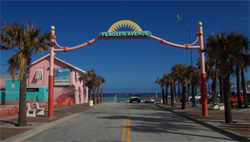 Flagler Avenue is New Smyrna Beach's Beachside historical and shopping district. It is the beachside main drag. It has an "old Florida" appeal that most other coastal cities lost long ago. Palm trees border Flagler Avenue, between Peninsula Avenue and the ocean, which is ideally situated between by the Intracoastal Waterway and the Atlantic Ocean. It is a true seaside beach street lined with a mix of locally owned restaurants, diners, art shops, and small motels, without a chain name in sight. Aqua-hued metal banners of fish and sea turtles brightened the lampposts. Banana trees and flowering hibiscus bushes hugged verandah walls. Flagler Avenue boasts over 50 unique shops just steps from the sea.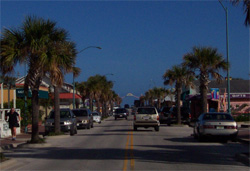 The Flagler Avenue , Walk of Fame allows you to buy yourself or friend or family member a "Walk of Fame" brick on Flagler Ave. The bricks cost $35 each. Contact Gone Bonkers for more info (1-386-427-2256). Flagler also has small pool halls, a late-night seafood cafe, a shuffleboard court park , and a busy drive-on beach at the end of the street.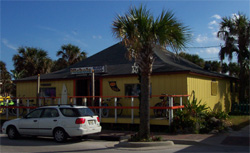 When visiting Flagler Avenue stop by the Beacon Diner on Flagler to see how life here is lived by families, retirees, and local surfers. Rent a bike at Nichols Surf Shop and check out the town's mix of modest beach bungalows and fancy oceanfront manses, all set among sabal palms and low-flung scrub oaks and sand pines. In the evening, stroll up Flagler Avenue and catch a set of live music at one of the many bars, or grab a sunset dinner or drink at Riverview Charlie's and watch the dusk bathe the Intracoastal in pastels.